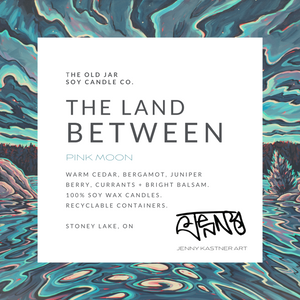 The Land Between Candle - 'Pink Moon' by Jenny Kastner
Sale price Price $48.00 Regular price Unit price / per
A sensory celebration of place and creativity. 
Enjoy an aromatic portal to the Land Between, reflecting the biodiverse meeting place of the Canadian Shield and the Limestone lowlands, where glittering lakes, sun basked junipers, granite ridges and limestone plains collide. Captured by the warm, sweet notes of cedarwood, wild currants, bergamot, balsam fir and juniper berries. Experience the sensory collision of art and aromatherapy and enjoy the jar as a keepsake when the candle is done. This collaboration is a celebration of place and creativity - curated by two women who call the Land Between home. 
Allow yourself to unwind and breathe deeply with all-natural delight for the senses. This lovely 2-wick candle will burn 100% clean, provide a warm glow with a pop of colour, and add an artistic touch to your home or cottage decor with our reusable jar you can keep and enjoy.
Old Jar Candle Co. creates hand-poured, high-quality, plant-based, soy-wax candles for the rooms we love to live in. With our efforts to use repurposed and recyclable glassware, our essential oil-based fragrances, our pure cotton and wooden wicks, and our commitment to protect the earth, our products provide you with sustainable luxury.
Jenny Kastner is a Canadian artist whose inspiration comes from the place she calls home - The Land Between: "My paintings explore landscapes as portals to deep, imagined and nostalgic relationships to place and subconscious. They are an invitation to connect deeply, to listen carefully to the spirit and pulse of place and to recognize ourselves as nature amidst the noise of modern existence. By combining collected memory experiences of place with my own photographs, video, and sketches, I come up with compositions and conceptual expressions that push traditional ways of seeing into magical realism." Jenny Kastner's art has been featured in internationally acclaimed arts and culture blogs Booooooom and My Modern Met, as well as features in Dwell, Les Ideas de ma Maison, and Our Homes Magazine. Jenny's paintings can now be found across Canada, and the US, as well as France, the UK, South Africa, Barbados, Costa Rica and Australia.
Our pure soy wax provides you with a clean and long-burning candle that comes from a renewable resource. Sustainability is our mission, and that's why we're proud to be a socially mindful brand that has successfully closed the loop on candle waste. Enjoy your beautiful candle, and remember this jar is meant to be repurposed and enjoyed! Wash carefully to preserve the label. Tip: It makes a great jewellery dish or flower planter!

Volume: 16oz
All-Botanical Ingredients: Essential Oils, Aroma Oils & 100% Soy Wax.