We Care.
Did you know that most used candle jars end up in landfill because of the leftover wax & wick in the jar?  
We're doing our part to close the loop on candle waste by using repurposed and recycled candle glassware collected from homes in our community, for our beautiful candle collection. 
Our 100% sustainable soy candle business aims to drive awareness and create responsible candle use through our own actions to build both a luxurious soy candle product and a business model that prioritizes sustainability.  
Shop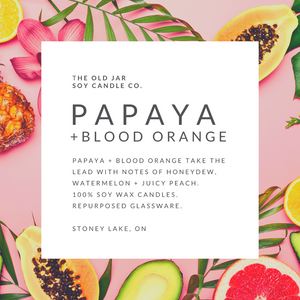 Papaya + Blood Orange Soy Candle
Sale price Price $27.00 Regular price Unit price / per
Custom Scents
Did you know that scent is the strongest memory trigger? This inspired us to create custom scents as gifts and mementos for weddings & special occasions. What would you love your custom, all-natural candle to remind you of, everyday?
shop
A beautiful mission.
"Beautiful candles and a equally beautiful mission to protect the earth!"
So impressed.
"I am so impressed with the candles. The scents are to die for and the Roasted Espresso makes my house smell like I just walked into a cafe! So good. I love them all!"
Candles for the rooms we love to live in.
We're closing the loop on candle waste.
Recycling old candle jars isn't easy. That's why they end up in landfill.
So we're here to drive awareness about this niche waste issue, and to provide a sustainable soy candle that not only smells amazing, but is made using only renewable resources and is packaged mindfully using recycled or repurposed glassware. We're proud to have built a luxury candle brand that has closed the loop on candle waste. 
This is sustainable luxury. 
Thanks for your support.